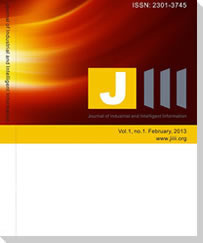 Journal of Industrial and Intelligent Information
JIII aims to provide a high profile, leading edge forum for academic researchers, industrial professionals, engineers, consultants, managers, educators and policy makers working in the field to contribute and disseminate innovative new work on Industrial and Intelligent Information. All papers will be blind reviewed and accepted papers will be published quarterly which is available online (
open access
) and in printed version.
Recently Published Papers
Robust Adaptive Control with the Use of DACDM Algorithm – Impact of Settings on Tracking Quality
Wojciech Giernacki
In this paper a new, discrete, robust adaptive control algorithm (DACDM) and research results on tracking quality improvement and on the increase of control system robustness to parametric uncertainty were presented. The proposed control algorithm permits to obtain the desired output signal courses at the apriori declared time regime with the save of control system stability in the presence of...[Read more]
ISSN: 2301-3745
Editor-in-Chief: Prof. Dr. Mohamed Othman, Universiti Putra Malaysia, Malaysia
Associate Executive Editor: Ms. Jenny Jiang
DOI: 10.18178/jiii
Abstracting/Indexing: Google Scholar, Crossref, Engineering & Technology Digital Library and etc.
E-mail questions or comments to JIII Editorial Office.
Professor Dr. Mohamed Othman
Universiti Putra Malaysia, Malaysia
I am very excited to serve as the first Editor-in-Chief of the International Journal of Industrial and Intelligent Information(JIII) and hope that the publication can enrich the readers' experience by exposure to cross disciplinary developments in the field that...[Read More]