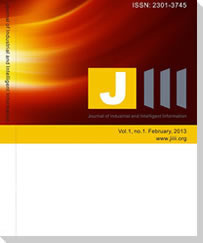 Journal of Industrial and Intelligent Information
JIII aims to provide a high profile, leading edge forum for academic researchers, industrial professionals, engineers, consultants, managers, educators and policy makers working in the field to contribute and disseminate innovative new work on Industrial and Intelligent Information. All papers will be blind reviewed and accepted papers will be published quarterly which is available online (
open access
) and in printed version.
Recently Published Papers
Using Visualization Models to Speculate on New Platforms for Additive Manufacturing Expansion
Badziili Nthubu, Daniel Richards, and Leon Cruickshank
Abstract—As Additive Manufacturing (AM) continues to grow, what constitutes its definition is also fragmenting and becoming blurred. The blurring of definitions may lead to slow understanding of AM technology, particularly in developing nations. To address this problem, the study proposes an expanded definition of AM based on the American Society for Testing and Materials (ASTM) standard AM definition. To examine the possible applicability of the expanded AM ...[Read more]
ISSN: 2301-3745
Editor-in-Chief: Prof. Dr. Mohamed Othman, Universiti Putra Malaysia, Malaysia
Associate Executive Editor: Ms. Jenny Jiang
DOI: 10.18178/jiii
Abstracting/Indexing: Google Scholar, Crossref, Engineering & Technology Digital Library and etc.
E-mail questions or comments to JIII Editorial Office.
Professor Dr. Mohamed Othman
Universiti Putra Malaysia, Malaysia
I am very excited to serve as the first Editor-in-Chief of the International Journal of Industrial and Intelligent Information(JIII) and hope that the publication can enrich the readers' experience by exposure to cross disciplinary developments in the field that...[Read More]